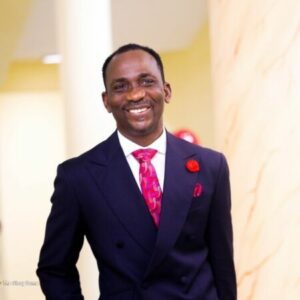 LE FONDATEUR DU CENTRE INTERNATIONAL GOSPEL DE DUNAMIS.
Paul Idoko Enenche est un pasteur basé à Abuja au Nigeria. Il est le fondateur et pasteur principal du Centre Gospel international Dunamis, dont le siège est à Abuja, Nigeria
VIE ET ÉDUCATION PROPOSITION
Paul Enenche est né à Otukpo le 4 juin 1968, dans la famille du chef D. Eneche est le dirigeant primordial du district d'Orokam dans la zone de gouvernement local d'Ogbadibo. Il est le frère cadet du porte-parole de la défense du général John Enenche du Nigeria. Il fait partie du groupe ethnique Idoma dans l'État de Benue, au Nigeria. Il est entré dans un ministère à plein temps après s'être engagé dans une retraite personnelle sur les collines du Plateau à Jos. Il a mis de côté son certificat médical et est allé à Abuja pour fonder une église en 1996.
Dunamis International Gospel Centre a été créé le 10 novembre 1996. La première messe dominicale a eu lieu au Centre des arts et de la culture d'Abuja 10. Les services religieux ont eu lieu pendant deux semaines avant que l'église ne déménage à l'hôtel et aux tours Abuja Sheraton, où les services ont été organisés pendant six mois L'église a déménagé sur son site actuel – zone 1, Garki Abuja – en juin 1997. L'église organise six services tous les dimanches et deux tous les mercredis. Le 14 septembre 2014, l'église a inauguré la construction du jardin du Seigneur, le siège international de l'église à Abuja. L'évêque David Oyedepo est arrivé pour la pose des fondations du projet. Le Centre international de conférences et le Glory Dome dans le jardin du Seigneur a une capacité de 75 000 places assises. L'événement était un rassemblement de plusieurs églises branches à travers le FCT, Abuja et environs qui sont venus puiser dans l'onction qui pose les bases d'un tel projet ultramoderne.
Enenche a mis en place un programme de formation biblique connu sous le nom de Dunamis School Of Ministry (DUSOM), afin de former les dirigeants et Enenche et son épouse, Becky, sont co-auteurs de The Seeds of Destiny, un guide dévotionnel quotidien publié tous les mois. Enenche est le superviseur de la Destiny Academy et du Destiny College appartenant à l'église. Il est aussi le superviseur de Destiny Publications, dirigé par l'église. L'église a créé sa propre station de télévision par satellite au Nigeria avec la création de Dunamis TV/Radio. Le but premier des émissions de télévision et de radio est d'évangéliser le monde pour le Christ. Les messages d'Enenche sont en bonne place sur la station satellite qui compte plus de trois millions de spectateurs.
Le ministère d'Enenche est également impliqué dans la fourniture d'équipements sociaux dans plusieurs parties du pays, notamment : routes, électricité, salles de classe et installations scolaires, approvisionnement en eau et installations sanitaires. Le pasteur Enenche, tout en présentant son invité — W.F. Kumuyi lors de l'inauguration du nouvel auditorium de 100 000 places (un plus grand auditorium acclamé au monde) à Abuja, a avoué comment le ministère de la vie chrétienne profonde a posé les bases pour r sa vie et son ministère lorsqu'il était un membre actif de la Membre du campus de Deeper Life et membre de chorale de l'église Deeper life à Otukpo à partir de 1986.
Enenche a écrit un certain nombre de livres dont :
Sagesse de carrière et de travail
Graines du destin
Soyez sage et lève-toi qui êtes-vous ?
10 principaux secrets des Principaux Personnes
30 secrets au sommet
21 clés peu communes pour un débordement financier
Faire une preuve complète du ministère
Raison de vivre
21 choses stupides que les gens font
Tu es ma hache de bataille
15 stratégies du Royaume pour la survie
22 Lois de la Vie Volume 1
22 Lois de la Vie Volume 2
L'histoire de la gloire
Vision pour le Top
Qui es-tu ?
Protocole suspendu
Accès aux possibilités
Sagesse de la planification et de l'utilisation du temps
Sagesse financière
Enenche a épousé Becky Inyangbe Ibu, également médecin. Ils ont quatre enfants.
Le pasteur Paul fait vraiment et fait toujours de son mieux pour aider l'humanité tant spirituellement que physiquement. Que Dieu lui donne de plus en plus d'onction pour faire plus.
In the book, "BE WISE AND RISE", to which this book is sequel, it was noted that wisdom is of vital importance: Wisdom prolongs life, and foolishness facilitates early death. Wisdom increases the boldness of a man's countenance. It is the secret of distinction. Wisdom sponsors exploits or mighty works; it gives outstanding results. Wisdom is better than weapons of war. It is better than physical strength. Wisdom uproots mountains. It is the secret of handling impossibilities. That is to say, if there are things you are facing in life today, they can be handled by just one flash of wisdom from God. These and many more, were enumerated as the reasons why wisdom is necessary.
The principal ways wisdom operates are the principal secrets behind the making of principal people. But what are the ways that lead to wisdom? That is the focus of this book.

6.825

CFA